Delivering an inactive drug to a tumour in a targeted manner and shining light on it once it gets there to create an active drug from the inactive one – a drug that acts on the desired site alone. This is what the scientist Dr Eva Bednářová will be working on as the recipient of a one-year stipend from the Experientia Foundation covering the cost of her research stay abroad. Eva will be leaving for Columbia University in New York in January 2020 to join Professor Tomislav Rovis group there. "I will be looking for ways of minimizing the side effects of chemotherapeutics," Eva explains. "I will be focusing on one drug in particular. Camptothecin has shown some highly promising effects on tumour growth, but is too toxic to healthy cells and cannot be used therapeutically."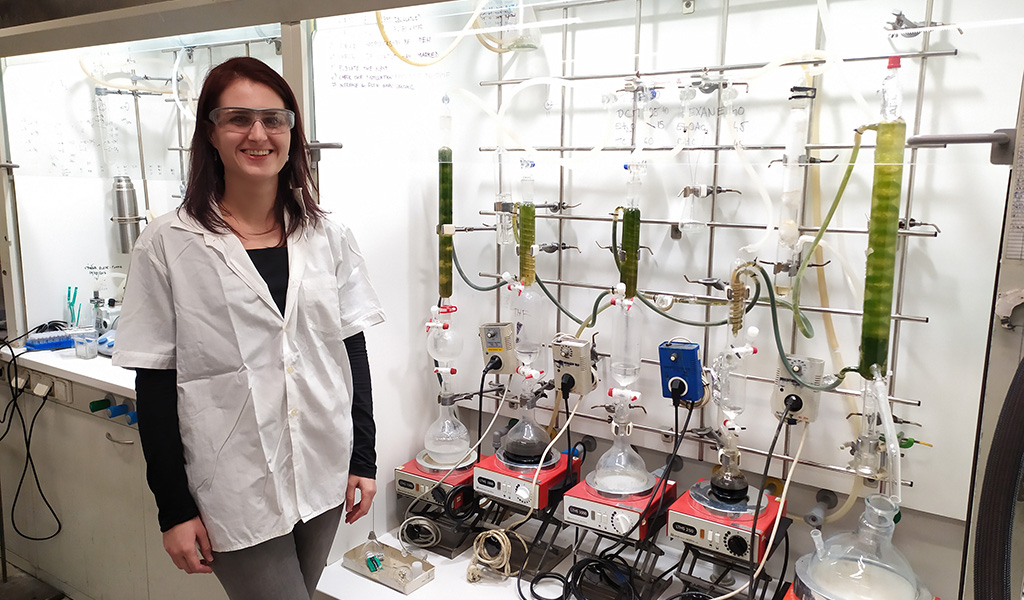 At the end of January 2020, you are setting off for your one-year research stay at Columbia University in New York. What are your expectations? Which is uppermost in your mind: excitement or awe? 
Right now, it's a mixture of both. I'm looking forward to the new environment, new people, and new project. I've spent ten years here at the Faculty of Science, albeit in various different labs, but I know this environment very well now, and I've been working on very similar projects for the past five years. So America will be a new experience and I can't wait to get there. But at the same time, I am a bit in awe of the prestigious university, plus I'm aware that this is a precious opportunity that few people get, so I don't want to waste it.
You have chosen to join Professor Tomislav Rovis group for your stay. Why this particular laboratory? What were your criteria? 
I'd known for some time that the Experientia Foundation supported research stays at prestigious universities through its stipends. So I looked through the various top-tier universities one by one, finding out what kind of research their research groups were doing and what might interest me as a potential project. I took the location into consideration as well: I knew I wanted to go to either America or Germany. I had other criteria too: for example, I knew I would prefer not to join a large team with 30–50 members, because with a group of that size, the professors don't have the capacity to make time for all the students and delegate this to their assistants instead.  At that time, I was interested in photochemistry, among other things, so choosing Professor Rovis fit my interests quite well. His group has about 15-20 people in it; he has some very interesting projects going on, and he supervises the students himself. And as far as I'm aware, he isn't the typical American professor who puts a lot of pressure on students, demanding an unrelenting work rate. That matters to me too, because I want to learn something and not come back half-dead because of the extreme pressure.
You seem to know quite a lot about Professor Rovis. Did you know him before you chose his group? 
I didn't know him personally; I just knew of him from articles in various journals. My first contact with him was through my dissertation supervisor who got in touch with him. He and I then discussed the whole project by e-mail. We didn't meet in person until last September, when we attended the same conference in Germany. By that time I already knew the result of the Experientia Foundation grant. It was a very nice meeting. I also had the opportunity to talk to several of his students, who talked about the lab as being one big family.
In America, you will focus on photoredox catalysis and the preparation of new chemotherapeutics. How did this project originate? 
I wrote the project in collaboration with Professor Rovis. He and I agreed on the aspects of his projects that would interest me most and then we developed it together. We discussed it, and from time to time he would give me an idea, a hint. Then I would process it, figure it out and propose a course of action, and this cycle was repeated a few times. I believe he had the final plan in mind all along, he just let me work it out on my own.
You will focus predominantly on the preparation of targeted chemotherapeutics that act solely at the site of cancer growth.  There are a number of groups out there working in the same area. What makes your approach unique? 
The problem with conventional chemotherapeutics is their lack of specificity. This means that they cause a range of side effects as well as drug resistance. These days there are methods whereby the drug can be targeted only at the areas of cancer growth. But this does not work 100% yet. We will be working towards achieving this specific localization and, in addition, we will be doing in vivo synthesis of an active drug which should take place only in the region the drug is needed. This we aim to achieve by the targeted delivery of a non-toxic chemotherapeutic precursor to the vicinity of the tumour and then converting the precursor to the active drug. Specifically, we are investigating camptothecin, which has shown very promising results as a cancer therapy, but has significant side effects that make it unusable for direct administration. We prepare camptothecin from its precursor through a cyclization reaction catalysed by a photoredox catalyst, i.e. by means of light. For this, we will use light on the boundary between the visible and infrared spectrum, which penetrates the skin and tissues quite well, but at the same time is low energy and does not damage tissues. We will use a cascade of photoactive substances, so that at the end of the process there is enough energy for the desired reaction. This is the innovative bit. The portion of the drug that remains unirradiated will be non-toxic and will be eliminated from the body, thus minimizing side effects.
What are the chances of success? What is the most challenging thing about the whole project?
That is very difficult to say at the moment. Penetration of light through tissues is something that is already known and used, and so is targeted drug delivery.  What is unknown and at the same time key is precisely this cyclization reaction and its application in in vivo drug synthesis at the site of cancer growth. Initially, we will be investigating this reaction in a lab flask using model substances, then we will mimic the biological tissue environment, and as the last stage, we will be testing the approach on the camptothecin precursor. But there is a long way to go. We will see how far I get in this project.
Talking about the future, what are you planning next?
At the moment, my plan is to spend the next two years abroad. It might be two years in the USA, or perhaps the second year in Germany, which is obviously closer to home. Right now I have no plans to stay abroad longer than that. I spent half of my PhD studies in France, so I feel I have some experience of living abroad.
Yes, this is something I wanted to ask you about. You did your PhD under a co-supervision arrangement between the Czech Republic and France, in what is known as the Cotutelle Program. Is there a difference between Czech and French science?
I cannot give a general answer about French science, I can only talk about my own experience. The clearest difference is the approach to the Cotutelle Program here and in France. In France, the program is well-established, they are used to it, and there are conditions in place for it. Whereas in the Czech Republic, I had to fulfil all the requirements of my doctoral studies, regardless of the fact that I was spending half of my time abroad. The PhD program also differs greatly in that French students do not have to sit any final state exams, but on the other hand defending their dissertations is a more extensive process compared to here. I defended my dissertation in Prague, though one half of the members on the dissertation committee were Czech and the other half French. The ways that people approach science are very individual. As far as the technical equipment is concerned, that was definitely better in the Czech Republic, but that may have been a result of the fact that the building of the French institute was soon to be demolished and everything was to be moved to a new building.
Looking back on it, how do you rate this PhD experience? Did anything surprise you? 
In France, occupational safety comes with far stricter requirements. Students cannot work on their own without being supervised by a supervisor or a permanent senior member of the lab. And the French sometimes tend to leave work rather early. Every morning I had to find out who would be leaving at what time and plan my day accordingly. Which can be quite difficult when doing science. Some things can't be planned in advance, they can just go wrong and then everything is put on hold.  But there was little I could do when my supervisor announced that he was going home, other than pack up for the day, with no one caring what stage my reaction was at. This definitely taught me how to organize my time and to plan better; I did learn how to use my time in the lab to the best effect. Whatever work I could take home with me from the lab, I did. Looking back now, I think I am grateful to have had this kind of PhD experience. I learned a great deal. But while I was there it was obviously difficult – I moved twice during that year, and I had to plan my projects very carefully. What didn't make things easier was that I don't speak French well, and the French are generally not very comfortable with English and are reluctant to speak it.
I figured that the chances of success are very good
Why did you decide to apply for a grant from the Experientia Foundation? 
I have known about it as a possibility all along. There aren't many comparable options to secure a grant in the Czech Republic. And when it comes to the amount of administrative work required, the Experientia Foundation process is the least burdensome. And I also thought that the chances of success would be higher than for other options.
Do you have any recommendations for other applicants?
Don't be afraid to give it a try.
How long did the preparation process take in total? 
From the first contact with Professor Rovis, the whole process took about four months. The most time-consuming part was of course devising the project. The other formal requirements and the final write-up of the application took me a few days.
The feeling when things finally click
What do you like about scientific work?
I like the feeling you get after looking into something for a long time without success, and then out of the blue you crack the problem. The feeling that it has finally clicked, that you did get there in the end. Or perhaps when I succeed in synthesizing a compound that no one has ever prepared before. That's what drives me and gives me strength for the weeks and months when things don't out so well.
What do you do when your research stalls? 
At first I get upset: I feel like throwing things, and I swear, but very quickly this transforms into a kind of positive anger. Then it is more motivational: I try out new things, I go over the literature, I try to get past the problem. I take these moments as a challenge that I want to get a handle on. I think I've never had a project fail utterly. But what often happens is that we reach the goal through a different path than the one we had in mind when we started.
Why did you decide to focus on chemistry and why specifically organic chemistry?
There was no other chemist in my family, and I wasn't one of those kids who begin doing experiments at home at an early age. My attitude changed when I started at the grammar school in Pilsen, where I had a great chemistry teacher and began to enjoy the subject a lot. That's why I decided to study at the Faculty of Science of Charles University. As to why organic chemistry, that happened by chance. The instructors we had in my first year at university kept repeating how important it was to know your lab environment, even if you learn about by washing the lab glassware. My friend and I had a chat with the assistant in our practical organic chemistry sessions. That's how we ended up in Dr Jindřich's lab, where we started doing some basic experiments. And over time, we found out that we could use the data we got out of this for our bachelor's degree theses. And it was in Dr Jindřich's lab that I really got the organic chemistry bug, so to speak. With organic chemistry, I enjoy that you do have to put in a lot of time in the lab and not just doing computer work, that a lot of depends on your hands-on work at the fume hood. I do enjoy that.
Do you have a scientific role model? 
I don't have a specific role model, but I do like the way that Professor Kotora, my dissertation supervisor, leads the group. He has little time himself, but always finds it for students: he is really there for them.
What do you do for fun outside research?  How do you recharge your batteries?
My parents encouraged me to do sports from an early age, so I guess sport is the best relaxation for me. I play volleyball and cycle to work. Weekends, we do nature trips, mountain trips, sleeping in a tent. I also enjoy hanging out with friends who are not into chemistry or science. It feels good to know there that there is another kind of life too.
Eva Bednářová
was born in Pilsen in the Czech Republic. After graduating from the Masaryk Grammar School in Pilsen, Eva studied chemistry at the Faculty of Science of Charles University, gaining a bachelor's degree in clinical and toxicological analysis and a master's degree in organic chemistry. In 2018, she completed her PhD under the supervision of Professor Martin Kotora (Faculty of Science of Charles University) and Dr Frédéric Lamaty (University of Montpellier) as a student in what is known as the Cotutelle Program. At the end of January 2020, Eva will head to Columbia University in New York for a one-year research stay in Professor Tomislav Rovis research group. The Experientia Foundation supported Eva with a stipend of CZK 1,165,000 (approximately USD 46,000) to cover the costs of her stay.